March 14, 2023
Posted by:

admin

Category:

News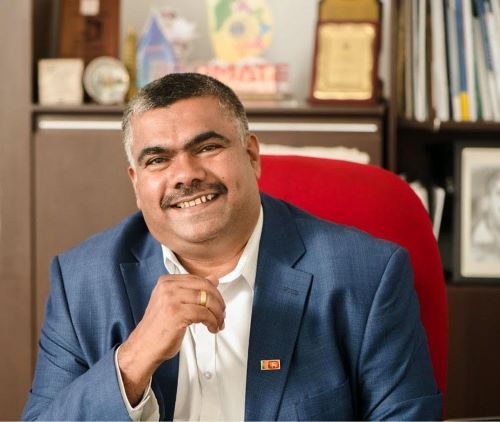 On this weeks' edition of 'The Founder', we feature the Director and CEO of ABC Trade and Investments (PVT) Ltd – Mr. Amalrajah Jayaseelan. He started his career almost twenty-five years ago as a Trainee Sales Representative drawing a salary of Rs. 650/- and today, he is an entrepreneur employing over hundred individuals.
In your own words, what is ABC Trade & Investments (PVT) Ltd?
ABC Trade & Investments (PVT) Ltd is one of the most dynamic and aggressive conglomerates in Sri Lanka. It was launched in 1997 and in 2004, we commenced operations as an ICT Solution Providing Company with six employees. The company now employees over one hundred individuals and our head office is located at No. 3, Bandaranayakapura Road, Rajagiriya. We have our offices, warehouses and showrooms in Anuradhapura and Kandy. We also have an island-wide distribution and service network. The ABC Group takes pride in offering affordable, practical, high-quality products and services in several specialized sectors; manufacturing, importing and distribution of products. We have also introduced several reputed brands to the local market.
What inspired you?
It was always a dream of mine to build my own business empire.
What was the journey like, starting from scratch and building the business up to where it is right now?
The journey has been quite challenging, with its own ups and downs. I started my entire business with Rs. 20,000. In the early 1990's, we started off as ABC Computers (PVT) Ltd, and we continued to steadily grow over time. In 1997, I decided to take the company forward in another direction. I hence recruited six staff members with IT distribution skills and launched ABC Trade & Investments (PVT) Ltd.
What were the hardships you faced as an entrepreneur, and what was the toughest one yet?
Capital has always been a major issue, but the biggest drawback is recruiting the right people. It's difficult to find good candidates in Sri Lanka.
Being an entrepreneur, what was it like facing the global pandemic? How did it affect the business?
I believe that all situations lead to new opportunities. We need to be vigilant and look for these opportunities. As an organization, we managed to sail through the pandemic quite smoothly with the introduction of new products and solutions.
Explain a few marketing strategies you have implemented, and what makes them successful?
Product and business diversification is always key, as the saying goes, we should not put all our eggs into one basket. Hence, from ICT Distribution we have diversified into water purification, water treatment, waste water treatment, air purification, solid waste management, souvenirs, corporate gifts, air flow, ventilation products and online trading.
What motivates you to do what you do on daily basis?
The passion and motivation to do better than yesterday.
How did you get the initial start-up capital?
By saving my monthly salary.
What separates ABC Trade & Investments (PVT) Ltd from its competitors?
Our offerings and relationship with customers is always, as ABC stands for, "A Brilliant Combination." We try to satisfy our customers rather than compete with other vendors.
Who are your role models?
No one in particular.
Was your family supportive of your new venture?
My wife was, and to date remains, my biggest cheerleader.
What is the end goal?
To build a business empire. A strong global brand and to leave behind a legacy.
What advice would you give other start-ups?
Never simply dream about success, work towards it, and work hard till you achieve it. Nothing is impossible.