March 15, 2021
Posted by:

admin

Category:

News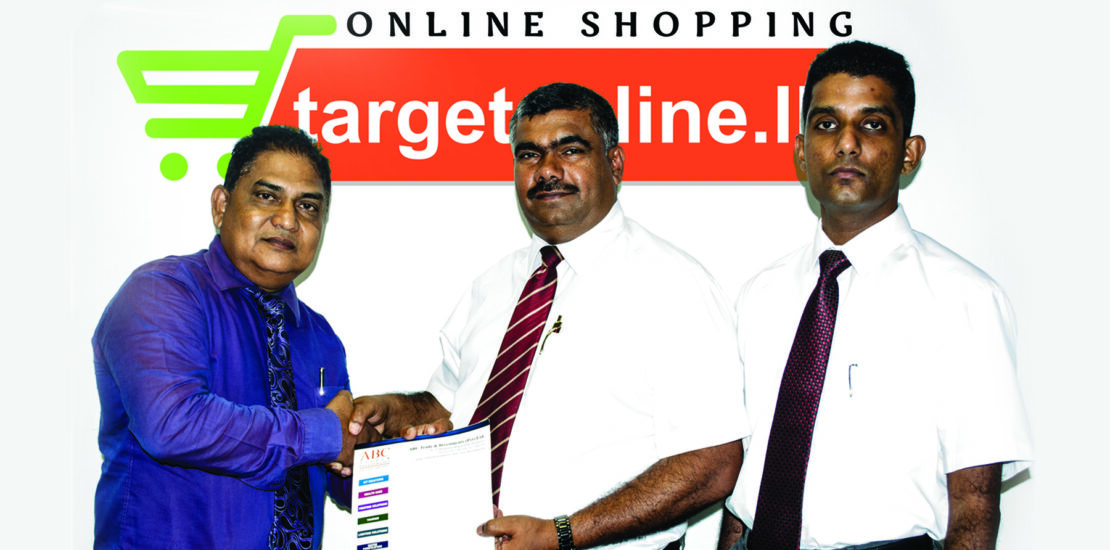 Targetonline.lk has joined hands as the Online Partner of the premier ICT exhibition 'INFOTEL–2016'. Organized by the Federation of Information Technology Industry Sri Lanka (FITIS),'INFOTEL–2016′, which is the biggest and most prestigious Information and Communication Technology (ICT) exhibition in Sri Lanka, will be held from November 11th to 13th, 2016, at the BMICH in Colombo. FITIS is organizing this landmark event in the ICT calendar for the 15th consecutive time. The theme of this year's exhibition will be "Empowering Digital Citizens".
Expressing his views on this sponsorship, Mr. A. Jayaseelan Director/CEO of targetonline.lk said: targetonline.lk is a unique one-stop online portal that connects buyers and sellers on a virtual platform that eases the process. This online market provides consumers with a wide range of products that will be available to them at the click of a button. Recently launched an associate company of ABC Trade and Investments (Pvt) Ltd they bring their vast experience and expertise in bringing to you an innovative and effective way to satisfy your purchasing needs.
This is Sri Lanka's first multivendor platform that caters to a global audience of both vendors and purchasers; targetonline.lk offers you products that cater to your every need through sections that range from IT, Electric & Electronic equipment. Household, healthcare, kids, Beauty and Fashion, to grocery and supermarket products presented by vendors who range from small and medium enterprises to large conglomerates. Today the world has shifted their shopping focus from conventional stores to online portals that better suit the lifestyles of the 21st century citizen. The need for a virtual platform that offers a superior shopping experience to the Sri Lankan consumer was identified and resulted in the timely manifestation of targetonline.lk
"The specialty of targetonline.lk during Infotel Exhibition is, we are tying up with vendors whether or not participating in the exhibition to promote the products through the online portal and at the targetonline.lk stall at the event premises
Chairman, INFOTEL Main Organizing Committee, Sudath Amarasinghe, said that this will serve as a bridge and offer a viable window of opportunity to Sri Lankan companies in the ICT sphere to explore possibilities of securing global markets for their products and services. This can also be viewed as a good opportunity for local players in the industry to seek foreign investments to develop their businesses, he noted. Further, he said that arrangements to host the proposed exhibition have already got underway and further support and patronage from more government and private sector institutions is being anticipated to contribute towards the greater success of INFOTEL–2016.
FITIS played a lead role in organizing INFOTEL – 2016 with the active support and patronage of a host of government and private sector institutions. The Ministry of Telecommunication and Digital Infrastructure, Ministry of Defense, Ministry of Education, Ministry of Higher Education and the Ministry of Skills Development and Vocational Training are the government organizations which extend their support to this biggest annual event in Sri Lanka's ICT calendar. The Information and Communication Technology Agency Sri Lanka (ICTA) is the national partner of the exhibition, while Sri Lanka Telecom is the principal sponsor. Also it is endorsed by Orange IT–Gold Sponsor, Esoft Metro Campus – Education Partner, Wijaya Newspapers–Print Media partner, Textware- Mobile Media Partner, Java Institute of Advanced Technology-Silver Sponsor, targetonline.lk (Pvt) Ltd. – Online Shopping Partner, Payhere- Digital Payment Partner, and ATOM–Digital Signage Partner. SLASSCOM, CSSL and BCS Sri Lanka Section have endorsed the event as 'Industry Partners'.
in the above picture Mr. A. Jayaseelan Director / CEO Targetonline.lk Pvt Ltd. (Center) hand-over their sponsorship to Mr. Sudath Amarasinghe (Left), Chairman, INFOTEL Main Organizing Committee, Mr. Shaheem Mahir Chief Operating Officer Targetonline.lk Pvt Ltd. (Right)