March 15, 2021
Posted by:

admin

Category:

News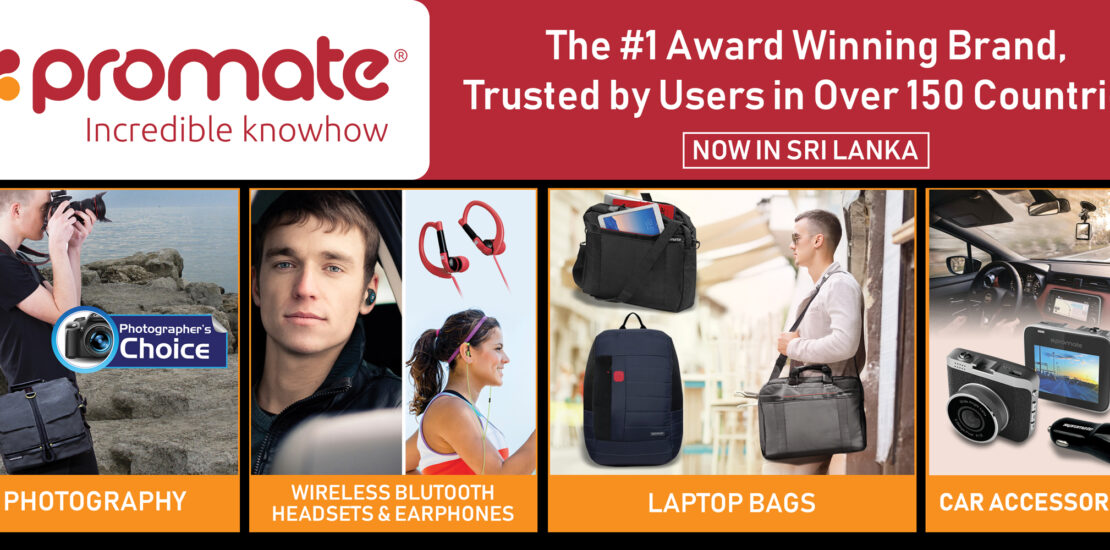 Sri Lanka, Colombo, April 2nd, 2018, ABC Trade & Investments Pvt Ltd announced it has signed a strategic distribution agreement with lifestyle technology manufacturer, Promate Technologies, for Sri Lanka market.
ABC Trade & Investments Pvt Ltd. will market and distribute Promate products making it available in all Leading Retail outlets, Super Markets, Online Stores and Island Wide dealer channels enabling consumers to experience the products. "Promate is a well-known and well-established brand which the discerning consumers in Sri Lanka will no doubt appreciate. We are proud to have been chosen as their sole distributor in Sri Lanka. Our experience and expertise over these many years in successfully marketing and distributing a varying range of products and services within the ever-changing Sri Lankan market place will no doubt stand us in good stead to successfully bring Promate to the forefront in Sri Lanka as well." Said Mr. Jayaseelan Director / CEO, ABC Trade & Investments (Pvt) Ltd speaking at the official appointment ceremony.
Yasir ALkaar, International Sales Director of Promate Technologies, said: "Promate constantly strives to seamlessly incorporate modern technology into the user's daily life. Promate's R&D team is continuously asked to find solutions to enhance the way we use everyday technologies. The result is a range of award-winning innovative enhancements and gadgets in the realms of telecoms, digital entertainment and personal computing.
We at Promate have the products, the know-how and the brand-building experience – and ABC Trade & Investments Pvt Ltd understands the local market and has the requited capabilities to grow the brand throughout their retails and micro-distribution channels. "This alliance will definitely give us a promising new foothold in Sri Lanka. I have high hopes for what our two companies can achieve, as the peripherals and accessories markets are showing strong growth across the globe, including in Sri Lanka.
Promate Technologies, the worldwide leader in electronic and computing DMS (Design and Manufacturing Service) with extensive experience in product development and vertically integrated capabilities, Promate boasts a diversified product line, including mobility accessories, IT peripherals, photography enhancements, digital gadgets and consumer electronics and more. At Promate, we take pride in our well-diversified product portfolio, unique designs, flexible manufacturing capabilities and reliable after-sale services. We develop and create products and solution that help people realize the power of technology and make people's lives better. Promate's commitment to innovation sets us apart. Our products are designed by a talented team of industrial designers and engineers, who also meticulously manage the technology to ensure the highest quality, making Promate products distinct in both design and quality. We operate on a "first to market" philosophy, which emphasizes procedural efficiency so that we can bring our innovative products to consumers ahead of our competitors. The combination of all these factors has made us the brand of choice among consumers who recognize quality design, engineering and value. This has been Promate's mission since our inception in Taipei – Taiwan early 2001, a brainchild of a group of the industry leaders worked at ASUS, Foxconn and Pegatron.
ABC Trade & Investments (Pvt) Ltd. Is a dynamic and aggressive conglomerate that has expanded significantly by diversifying into various business focuses and Industries such as ICT Solutions, Healthcare, Retail, Water Purification Solutions, Lighting Solutions, Consumer Electronics, Printing, Plantation, Tourism, Import Export Trading, Personalized Corporate Gifts and Online Shopping www.targetonline.lk
ABC Trade & Investments Pvt Ltd are authorized importers and distributors in Sri Lanka for Print Rite printer consumables, Verbatim storage media, Mitsubishi storage media, Fluke Networks network testers and certification, EnGenius, 4ipnet wireless access points and Wi fi solutions. Maxell batteries and storage solutions, Kodak inkjet photo papers and distributors for many leading international water purification and consumer electronic brands.