March 15, 2021
Posted by:

admin

Category:

News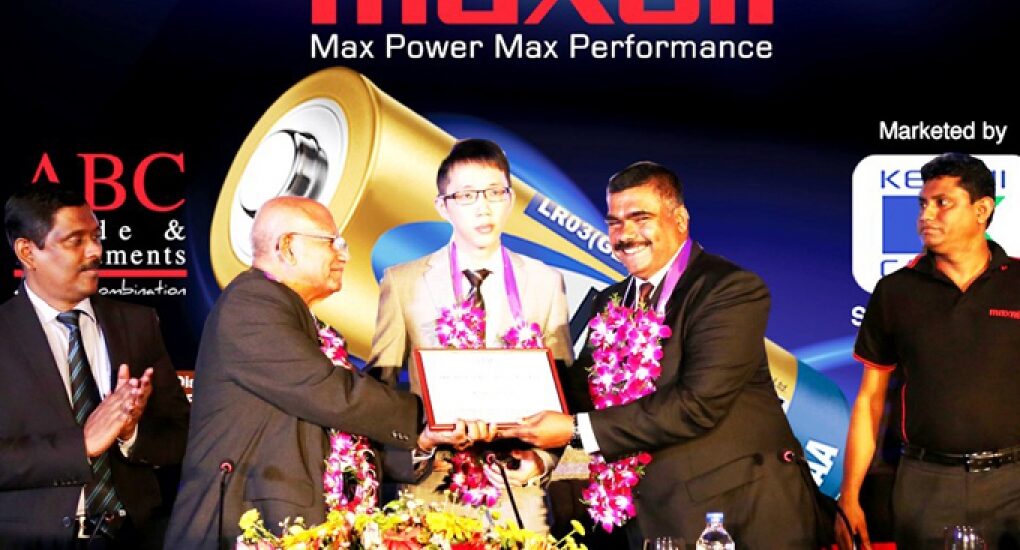 Kelani Cables PLC partnered with ABC Trade & Investments (Pvt.) Ltd to market and distribute the world renowned consumer battery brand Maxell within the country.
The official launch held at Taj Samudra hotel, Colombo saw a Memorandum of Understanding (MoU) being signed between Kelani Cables PLC Director/CEO Mahinda Saranapala and ABC Trade & Investment (Pvt.) Ltd Director/CEO Amalrajah Jayaseelan.
Maxell batteries are produced by Maxell Hitachi Company in Japan. ABC Trade & Investment (Pvt.) Ltd is the authorized Sri Lankan agent for Maxell battery brand. Maxell consumer battery distributed in Sri Lanka will have a range of products in its range.
Saranapala speaking at the unveiling ceremony said Kelani Cables being Sri Lanka's number one brand in secure electrical and communication cables only provides Sri Lankan consumers with credible products that they can rely on. "Maxell battery brand having a history of 40 years and being used worldwide was the reason we decided to distribute this brand within our country. Our loyal customers thus can derive benefit from this long-lasting battery," he said.
Maxell Asia Company Director Alex Wong gracing the occasion said, Maxell is a consumer battery brand immensely popular in the world. "It is my pleasure to see a leading company like Kelani Cables coming forward to handle distribution of the product in Sri Lanka. Now Sri Lankan consumers have the opportunity to experience the power and durability of a consumer battery with Japanese technology," he said. Jayaseelan said, "Our company is the sole agent in Sri Lanka for many world-renowned brands and we are happy to include Maxell brand too into our portfolio. We offer a chance for Sri Lankan consumers to experience the exceptional quality of Maxell battery. We selected none other than Kelani Cables for distribution of the product since it has a gigantic and efficient
The occasion was also graced by Chief of Marketing Achira Silva, Maxell Battery Product Manager Peshala Uditha and ABC Trade and Investments (Pvt.) Ltd Zonal Marketing Manager Namal Perera. From Kelani Cables, General Manager Marketing Anil Munasinghe, Chief Financial Officer Hemamala Karunasekera, Marketing Manager Exports Devinda Lorensuhewa, Brand Development Manager Channa Jayasinghe, Sales Manager Chaminda Waidyatilleke, Sales Controller Ralph Roshan, Sales Manager Power and Energy Rohana Wadduwage and Sales Manager Kelani Lightings Ajantha Yainna participated. Munasinghe said the young and dedicated sales force of Kelani Cables has carved a niche in the Sri Lankan marketing arena thus it is rest assured Maxell battery will be distributed properly to the satisfaction of Sri Lankan consumers.
Jayasinghe said products distributed by Kelani cables have been able to secure the largest market share for each product in the marketplace due to the standards of the products as well as marketing efficiency."Both consumers and sales agents in the country have kept confidence in Kelani Cables brand thus they purchase our products without any hesitate. Yet, there has been a void in the marketplace due to unavailability of a battery for domestic use with Japanese expertise. We now have filled that void," he said.
in the above picture MoU signing to market and distribute the world-renowned consumer battery brand Maxell (from left) Kelani Cables General Manager Marketing Anil Munasinghe, Kelani Cables PLC Director/CEO Mahinda Saranapala, Maxell Asia Company Director Alex Wong, ABC Trade & Investment (Pvt.) Ltd Director/CEO Amalrajah Jayaseelan and Kelani Cables Brand Development Manager Channa Jayasinghe