June 10, 2022
Posted by:

admin

Category:

News
Like most good things, Walker's introduction to Sri Lanka also happened by chance. He was en route from Australia to England on a ship when they docked on the island for a day. It was then Walker first visited the Colombo and Mount Lavinia areas and felt a strong sense of attachment and was convinced that he was "Sri Lankan in a past life!"Explaining his philanthropic activities in the country, Walker said, "My work first started with funding three orphanages in Jaffna, Kilinochchi and Badulla where children learn English thrice a week. I then provided funds for the maintenance of CCC Foundation's CCC House project, a 190-bed transit home for cancer patients in Maharagama. On one of my visits, I was returning to Australia and read about the kidney disease problems in Sri Lanka and coincidentally, the Moorooka Lions Club was conducting an appeal to raise funds to install a Reverse Osmosis (RO) plant in two villages in Anuradhapura, for which I made a contribution. As a result of this experience, I joined Bill Deutrom, Chairman of the Federation of Sri Lankan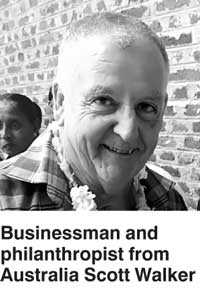 Organisations of Queensland and Amalrajah Jayaseelan, Managing Director of ABC Trade and Investments, to provide 100 villages with RO plants."

The 100 village project required a reputable company to provide and install the RO plants and also ensure the maintenance of the equipment. Walker reached out to ABC Trade and Investments and a successful partnership was formed. The company created a program in consultation with the National Water Supply and Drainage Board to identify the most deserving rural villages with high density of CKDu (chronic kidney disease of unknown etiology) patients, and also train villagers in the area in all aspects of maintaining these RO plants, thereby also creating a sense of responsibility and ownership among them.

While water purification has been one of the main areas that Walker contributed with over Rs. 100 million, he has also done some work with the Foundation of Goodness and their Village Heartbeat project in Jaffna that provides locals English lessons, IT training, women's empowerment programmes, vocational training and more.

On occasion, Walker also steps in during at the time of natural disasters. One such time was during the Mutwal floods from a few years ago where he contributed towards the re-establishment of an area by providing essential food, replacing household furniture and by providing school books and bags for children.

Walker will continue his philanthropic work in Sri Lanka. He has grown to love the people, the culture and the beauty of the country and hopes that his contribution to Sri Lanka will make it a better place for those he has helped.