March 15, 2021
Posted by:

admin

Category:

News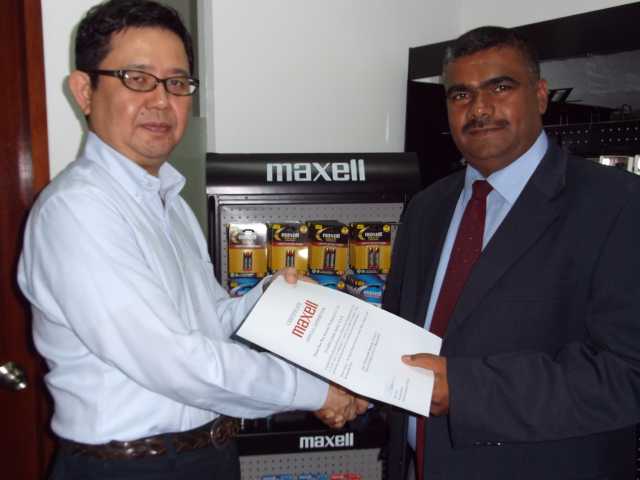 ABC Trade & Investments (Pvt.) Ltd., one of Sri Lanka's leading ICT companies, has been appointed as the Authorized Distributor in Sri Lanka for Maxell Consumer Batteries, one of the world's leading battery brands. With this appointment, ABC Trade & Investments will commence marketing a range of Maxell products which are all easily identified due to the unique ABC Trade & Investments hologram.
ABC T&I was appointed by Maxell Asia (Singapore) Pte Ltd, an affiliate company of Hitachi Maxell Ltd of Japan. With over 50 years of experience, Hitachi Maxell is globally known as a leading manufacturer of battery products and information storage media products such as magnetic tapes and optical discs. As the Authorized Distributor, ABC T&I will market genuine Maxell batteries available in various sizes and types including Alkaline, Heavy Duty, Rechargeable, Watch and Coin batteries and storage media.
Speaking about the company's appointment as the Authorized Distributor for Sri Lanka, A. Jayaseelan – CEO/Director of ABC Trade & Investments (Pvt) Ltd stated, "This achievement is yet another significant milestone in the history of ABC Trade & Investments. We are proud to be appointed as an Authorized Distributor for a leading global brand such as Maxell. This highlights the confidence that Hitachi Maxell has in the Sri Lankan market and in the ability of our company to market their world-class products successfully here."
All Maxell batteries marketed and distributed by the company are genuine products that are easily identifiable by the ABC Trade & Investments hologram sticker. This move by the company will help the consumers easily find out the difference between the genuine product and the fake, low quality Maxell batteries that have flooded the market in recent times.
Commenting about the importance of using genuine Maxell products, Jayaseelan stated, "Imitation is the sincerest form of flattery and as is the case with all high quality products, there are always unscrupulous individuals and organisations trying to fool the consumer by selling fake, inferior quality Maxell batteries. The only way for the consumer to ensure that the battery purchased is a genuine Maxell battery is by insisting on the ABC Trade & Investments hologram."He added that this carefully designed, eye-catching hologram will be easily identifiable and will play a significant role in helping their customers buy only genuine Maxell products that offer guaranteed performance.
"By buying genuine Maxell batteries, the customer is assured of getting the best performance as the genuine battery lasts much longer than the fake ones," Jayaseelan stated."The genuine Maxell battery has undergone strict quality checks in Japan which means that it will be the best battery for your device, unlike the fake ones which may harm the device due to its inferior product quality," he further stated. He added that the company is making plans to distribute all Maxell products through a wide network of channel partners spread islandwide. "We want to make sure that any person in any part of the country can conveniently access any Maxell product," he claimed. "We are also looking at changing perceptions of the customers through our product range. For example, we want to make the customers are aware of the environmental and cost benefits of using rechargeable batteries as opposed to regular batteries that have to be disposed of after using once," he further added.
In addition to being the Authorized Distributor for Maxell products, ABC Trade & Investments has diversified into various business areas that cater to specific customer needs at both professional and personal level. These include the TARGET OfficeStore, a one-stop-shop for office automation, office supplies, ICT solutions and networking solutions; RE-NEW STATION which focuses on recycling printer ink and toner cartridges; TARGET techSolutions for repairing and servicing of all types of printer brands; water purification & healthcare products as well as the IDEA store and targetonline.lk multi-vendor online store.
About ABC Trade & Investments Having being incorporated in 1997, ABC Trade & Investments (Pvt) has since grown to become diversifying conglomerate has been introducing a number of innovative high quality products which have delivered exceptional customer satisfaction. With the experience of delivering value to a large customer base. The company offers affordable, practical and high quality products and services in specialized sectors such as ICT, Healthcare, Renewable Energy and Consumer Electronics. Authorized distributors in Sri Lanka for many leading brand over decade such as PRINT-RITE, VERBATIM, MITSBISHI FLUKE NETWORKS, KODAK inkjet photo papers, ENGENIUS wireless solutions, MAXELL storage media, CLEANSUI, PROPRE, PARAGON and Pure Aqua water purification solutions. And operate with sales and support outlets which are located at customer convenient locations in Rajagiriya, Liberty Plaza Col 3, Negombo, Kandy, Anuradhapura, Matara, Padavi Sripura, Pollanaruwa It is a recognized member of the Sri Lanka Computer Vendors Association and The National Chamber of Commerce Sri Lanka.
About Maxell Founded in 1960, Hitachi Maxell Ltd is a leading global manufacturer of information storage media products, including magnetic tapes, optical discs and battery products such as lithium ion rechargeable, micro batteries and alkaline dry batteries. The company has built up an international reputation for excellence and reliability, pioneering the power supplies and digital recording for today's mobile and multimedia devices, leading the electronics industry at home and abroad in the fields of storage media and batteries. Maxell was one of the first companies to develop alkaline batteries in Japan and was also the first company in Japan to successfully market button-type silver oxide batteries.