March 15, 2021
Posted by:

admin

Category:

News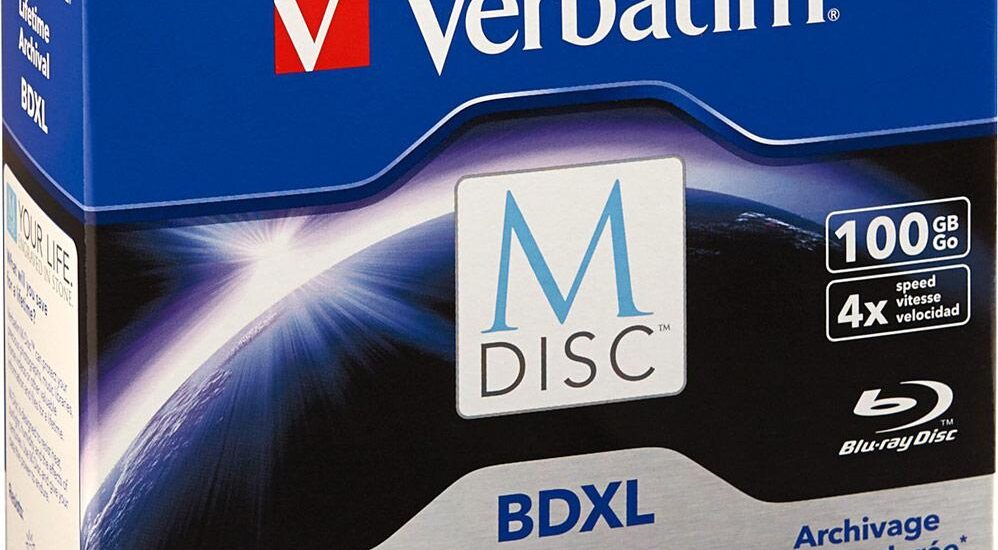 Verbatim and Millenniata Inc. announces the first 100GB Blu-rayTM optical discs to enable individual consumers or small and medium sized enterprises ( SMEs) to untilise large –scale optical storage with over 1,000 year archival storage life. The one –time writable 100GB M-DISCTM Blu-ray media will be available for shipment globally thorough the established sales and distribution channels of Verbatim and Millenniata.
Verbatim is world renowned for pushing the boundaries of optical disc technology and delivering high quality products. This latest Blu-ray media is being manufactured the Mizushima factory in Japan and has undergone rigorous and extensive tastes to ensure both performance and compliance. Manufactured in accordance with and conforming to the standard BDXL specification, the 100GB M-DISC media will work in any BDXL capable Blu-ray Drive.
The 100GB BD M-DISC has been tested by Mitsubishi Kagaku Media (Verbatim's Parent Company), Millenniata and independent third parties according to the internally – accepted lifetime tasting standard ISO/IEC 16963 (2nd edition). The Outcome is a remarkable average lifetime of significantly more than 2,000 years with no more then one failure per 100,000 disc excepted, after more than 1,000 years at 250c (770F) and 50% relative humidity. In other words, data can be reliably stored for many centuries on the 100GB BD M-DISC in a typical home or office environment. Product Range for End- users and SMBs are 4.7GB DVD M-DISC, 25GB BD-R M-DISC, 100GB BD-R BDXL M-DISC and for Enterprise Customers 100GB BD-R BDXL M-DISC
Gary Milner, President, Verbatim Ltd., "Verbatim is the world's leading supplier of optical media, with a particularly strong presence in consumer and SME markets, so incorporating M-DISC into our products portfolio allows Verbatim to significantly strengthen our capabilities within the long-term, archival data storage sector. Customers will benefit from M-DISC's outstanding archival-grade features to protect their personal music, photos and videos or business documents and other data. Paul Brockbank, CEO, Millenniata commented: "This is a very exciting time for us as we now have product offering that cater to all market sectors from consumer to enterprise with our DVD, Blu-ray, and now BDXL MDISC media. The longevity of our media is proven and with the manufacturing support and co-operation of Mitsubishi Kagaku Media we are confident teht our OEM's and channel partners will be very happy with this high quality product.''
Verbatim is a leading global company in data storage and LED lighting with a broad product portfolio spanning consumer and professional applications. Verbatim has been shaping the development of data storage devices since 1969 and is the world's No 1 supplier of optical media ( Blu-ray, DVD and CD) The company also market flash memory , external hard drive storage solutions and a wide range of computer accessories. In addition, the company is an innovator in fast-growing LED and OLED lighting, developing products that offer low power consumption, long life and a better lighting experience. It is also an emerging supplier of water filtration systems; its Cleansui brand is Japan's favorite water filter, and most recently it has launched a range of plastic filaments for the 3D printing industry. Verbatim is a subsidiary of Mitsubishi kagaku Media owned by Mitsubishi Chemical Corporation, one of the largest chemical companies, which invests heavily R&D across many diverse sectors. The company's operating principles are founded on helping people to live in a healthy, comfortable and sustainable way. Verbatim's regional organizations are EMEA, APAC and Americas, with offices in most countries in the world.
ABC Trade & Investments (Pvt) Ltd. The local distributor for Verbatim commenced operations in 2004 with a focus on a range of ICT solutions, during the past few years ABC Trade & Investments has made strategic expansions into the areas of healthcare, green technology, printing, consumer electronics, plantation, Tourism and import /export trade. ABC T&I markets several leading global brands such as Print Rite /Coraljet printer consumables, Verbatim / Mitsubishi storage media, Maxell, Kodak inkjet photo papers, EnGenius / 4ipnet wireless network solutions, New Rock IP-PBX, Fluke Network Testers, IBM data storage media. The company is a recognized member of the Sri Lanka Computer Vendors Association and The National Chamber of Commerce Sri Lanka. ABC Trade & Investments (Pvt) Ltd. Will provides the most suitable optical solution to Government, Corporate and Media Institutions with Verbatim, email to info@abcsrilanka.biz